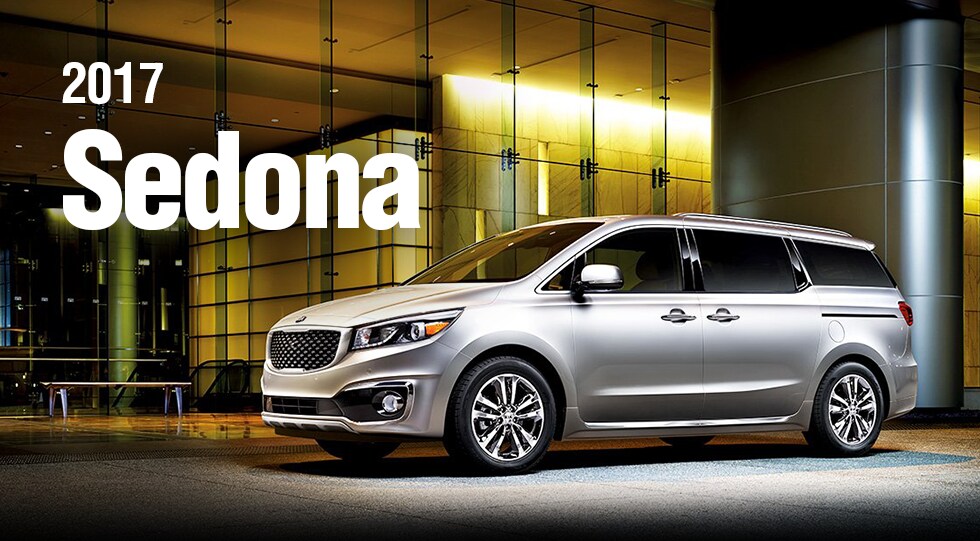 Winning design.
The Sedona was redesigned from every angle to give you luxury in every row. With a spacious cockpit and available second-row First-Class Lounge Seating, the Sedona proves that style can seat seven.
SHOP SEDONA INVENTORY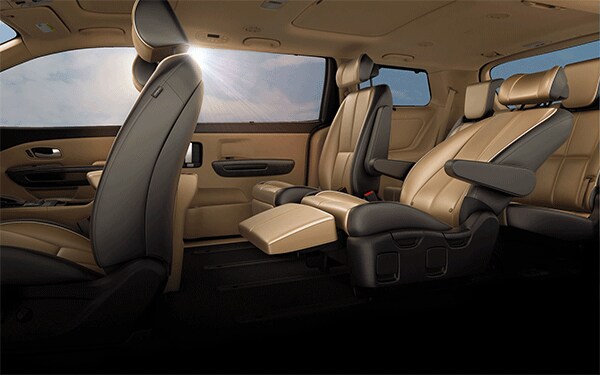 Second db-row, meet first class.
Introducing the available second-row First-Class Lounge Seating. Wrapped in ultra-soft Nappa leather trim, these reclining seats feature adjustable armrests, winged headrests, as well as retractable footrests for luxurious lounging on the go.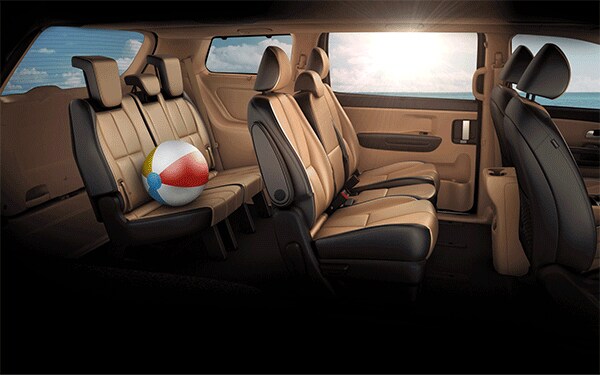 Space for spontaneity.
The Sedona's first-in-class available Slide-N-Stow® seating lets you easily fold the second row upright while the third row conveniently stows under the floor-giving you ample space without removing any seats. And for eight-passenger seating, the second-row center section can be taken out to offer even more room. See just how easy it is to configure the Sedona to suit your lifestyle.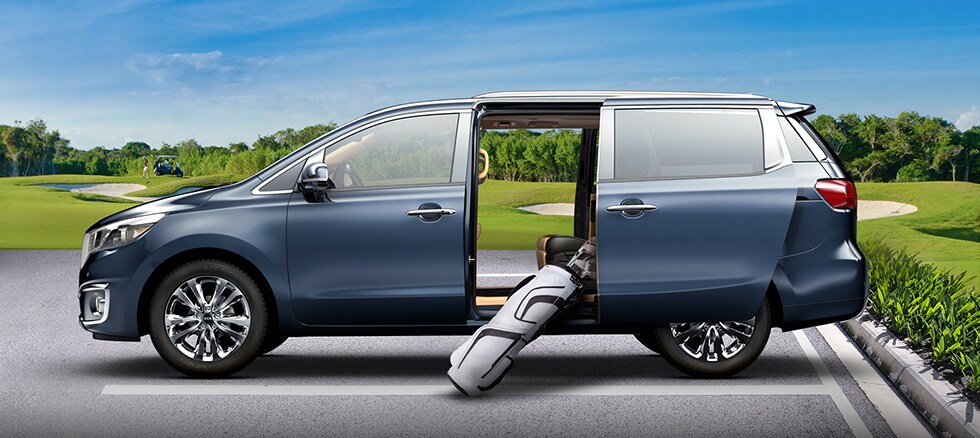 Smart exit strategy.
In and out with ease-and without getting caught. The available Power-Sliding Anti-Pinch Doors stop when built-in sensors detect an object in the way. With four different devices to operate the doors, including the key fob, control is simple and conveniently within reach.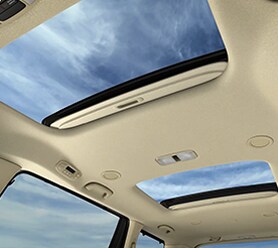 Sky's no limit.
Take in the sunlight with the all-new available Dual Sunroofs. Engineered for personalized comfort, each power-operated sunroof and sunshade tilts or slides open at the push of a button.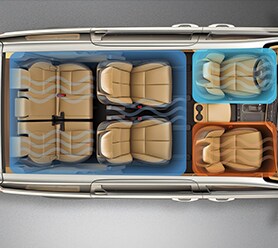 Three comfort zones.
Dial in to three different comfort levels simultaneously. The available Tri-Zone Automatic Climate Control features driver, front-passenger, and rear zone temperature settings. So that each area can enjoy customized heating and cooling.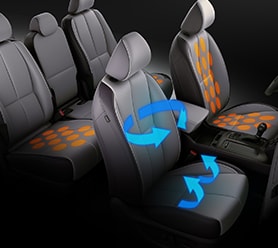 Temperature-controlled comfort.
The Sedona is indoor comfort impervious to outside climate. Heated Front Seats offer three heating levels to warm you up. Ventilated Front Seats have three fan settings to cool you down. Plus, the Sedona has available second-row heated seat cushions.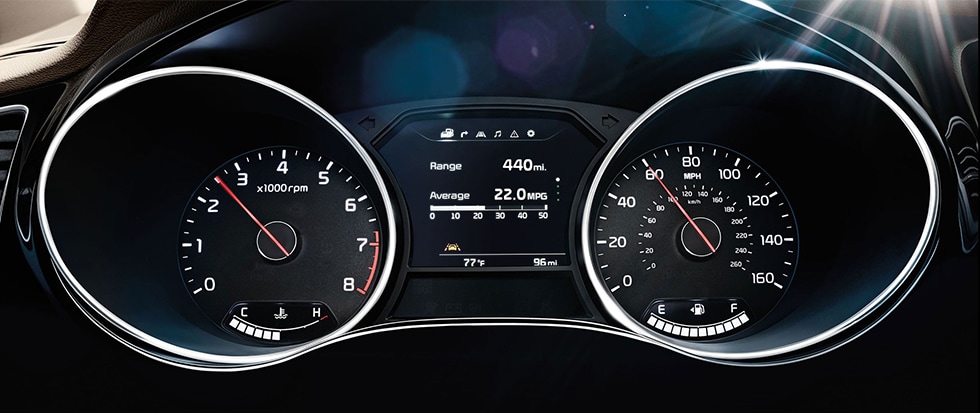 Tech-centric.
Intelligent and responsive, the 2017 Sedona is loaded with cutting-edge innovations to help keep you in control. Like the available Rear-Camera Display, as well as compatibility with Apple CarPlay™ and Android Auto™. It's intuitive technology at your fingertips.
Intuitive safety.
Your safety is our top priority. That's why the 2017 Sedona features trusted active and passive safety systems to help you stay on course. Intuitive systems, like Electronic Stability Control (ESC) and Cornering Brake Control (CBC), that help you maintain better control. With a body made of over 50% high-strength steel and patented technologies that provide outstanding durability, the Sedona is modern engineering that gives you an assured command of the road.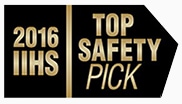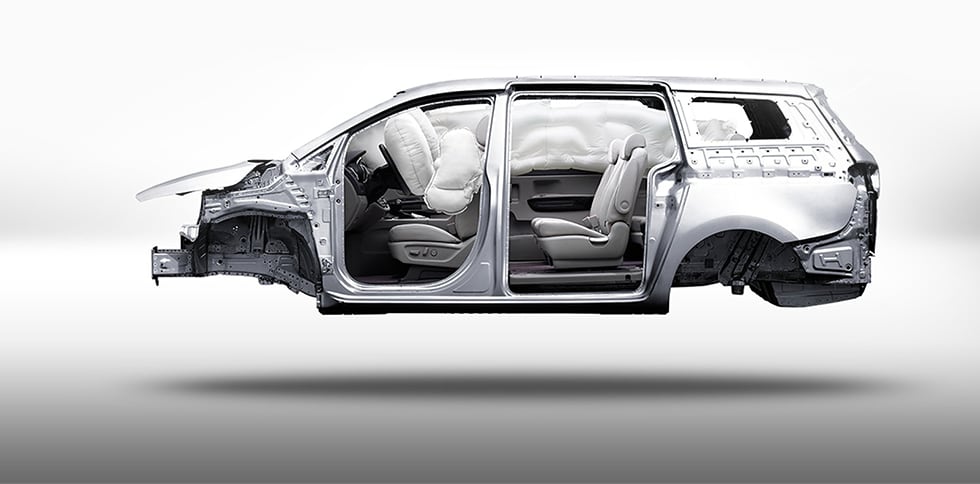 Power that lives on.
Under the hood is a 3.3-liter Lambda-II Gasoline Direct Injection (GDI) V6 engine that packs 248 lb.-ft. of torque to take on the road. Rigorously tested for 300 straight hours at red line, the engine delivers long-lasting high performance you can depend on.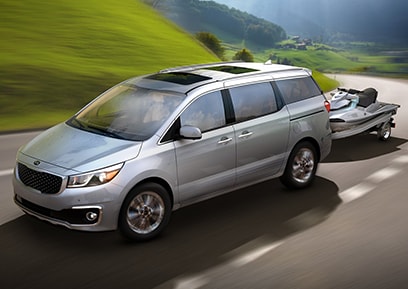 A mighty tow.
Pure towing power made for the long haul. With a max towing capacity of 3,500 pounds and a 6-cylinder engine that offers an impressive 276 horsepower, the Sedona is built to take you and all your cargo on your next getaway.