Conceived for urban adventure, the completely redesigned 2017 Sportage is the most extraordinary compact crossover on the road today. With an imposing appearance, a rock-solid stance, an upgraded cabin and the torque to take you wherever the journey leads you, the new Sportage is a stylish, bolder-than-ever standout in an otherwise utilitarian category.
Explore the Sportage's features below:
Unconventional By Design.

The completely redesigned Sportage sets its own aesthetic standards for the compact crossover. Its striking grille, elegant side contours, prominent wheel arches, coupe-like roof, extended wheelbase, and full-chrome window surround achieve a precise balance between luxurious sophistication and dynamic sportiness.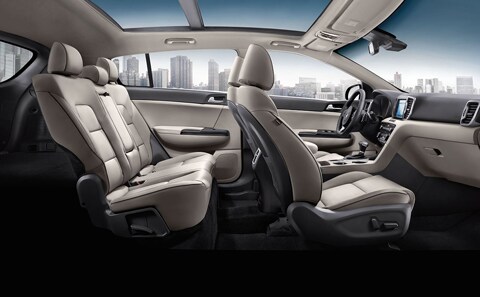 Driver-Oriented Design

.
Designed for the utmost control and comfort on every journey, the new Sportage puts you at the center of its universe. The angled console, displays, and buttons are all ergonomically optimized. The new Sportage transports you in a sumptuous driving environment, while serving every functional need with inventiveness and ease. Premium craftsmanship imbues every detail, from the new soft-touch materials to the upgraded seats with scientifically calibrated touch points
.